RAYCHEM QuickNet P160-6.0/Th Heizmatte T2QuickNetPlus mit Therm. 960W
This article is discontinued. Online ordering is no longer possible.
Other products of this brand / from this manufacturer:
RAYCHEM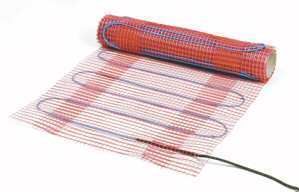 Product image may differ from original
---
RAYCHEM QuickNet P160-6.0/Th Heizmatte T2QuickNetPlus mit Therm. 960W
---

Description
QuickNet Heizmatten (Komplettpaket) Die vollständige Lösung in einem Paket: Selbsthaftende Heizmatte T2QuickNet 160, bereits angeschlossenes Netzkabel und R-TC Thermostat für Boden- oder Umgebungstemperaturmessung mit Boden-Temperaturbegrenzer Nur 3 mm dünn! Nur Ein Kaltleiter-Anschlusskabel für eine einfache und schnelle Installation! Ideal als direkte Fußbodenbeheizung zur Einbettung in Fliesenkleber oder Ausgleichsmasse unter der Bodenoberfläche, Ideal für Renovierungsprojekte: kein Anheben des Fußbodens oder Anpassen an Türstöcken oder Treppen Nicht als Freiflächenheizung geeignet! Heizmatte für 6 m², selbstklebende Unterseite, Heizkabel -Außen- und Innenmantel aus hochwertigen Flourpolymermaterial für höhere mechanische und thermische Widerstandsfähigkeit, 1 Anschlußkabel, 12 Jahre Komplettgarantie, oder auf 20 Jahre verlängerbar durch zertifizierten Installateur. Technische Daten: Leistung: 960 W, Nennspannung: 230 V, Steuerung: R-TC-NRG, Thermostat mit Raum- und/oder, Bodentemperaturfühler und integrierter, Zeitschaltuhr, 13 A, beleuchtetes, Display, Booster-Funtion.
All features and specifications subject to change without notice, delivery subject to availability, correction of errors and omissions excepted.
Reviews
There are yet no reviews for this product.
---